This May, Mount Maunganui business owner Brendon Johnston from the Johnston Boxing Club is hosting a black-tie charity fight night alongside the Child Cancer Foundation. 
FIGHT the FIGHT against childhood cancer is a black-tie fundraising event being held at Trustpower Baypark on 20 May that will help raise funds to support Kiwi families whose children have been affected by cancer.
We sat down with new member Brendon to find out more about his business and why he's chosen to host this event.    
Tell us a bit about your background – who you are and what you do.  
I initially moved to Tauranga in 2017 to accept a role as a permanent recruitment consultant, but unfortunately like so many of us during the Covid pandemic, I was made redundant. The only other skill I had was boxing. I had competed in the amateur circuit as a kid, and again later in my 30s, purely for health reasons. So, in a desperate search for other means of making a living, I became a boxing coach and opened my boxing club. Little did I know what the future had in store for me when I moved to this beautiful city.
What is one thing you'd like people to know about your business? 
I teach the science behind the art of boxing, the 'how' and the 'why'. You can learn more in one hour at JBC than in six months at any other gym in Tauranga, and I know that from personal experience. I get you to perform certain drills or activities and take pride in sharing knowledge that has been passed down to me by some of the best boxing coaches in New Zealand.
How can you help the business community?  
I'm very passionate about building strong communities and bringing people together through the one thing I'm truly passionate about, 'boxing'. I offer group sessions, that can be a great team-building activity and help energize and motivate your staff. I have a passionate team who pushes and motivates each other. When someone is struggling there's always someone to either pull the slack or give them a gentle kick up the backside.
Tell us about your upcoming FIGHT the FIGHT charity event. What was your motivation to get behind this cause? 
If you've ever spent time with a child undergoing cancer treatment and had a conversation about their likelihood of survival, then you'll get why this fundraiser is so important and why I believe in it so much. My goal is to donate $10K by the end of the night to the Child Cancer Foundation.
What can people expect from this charity event?  
Glitz, glamour, and heart-pumping corporate boxing action. A mouth-watering buffet-to-table service from the venue's winter menu and complimentary drinks and live music. We have men and women from all over the Tauranga region jumping in the ring for the very first time to help raise money for this charity and your entertainment. You'll witness some of the best amateur boxers in the region going head-to-head in thrilling matches, all while supporting a cause that affects far too many families.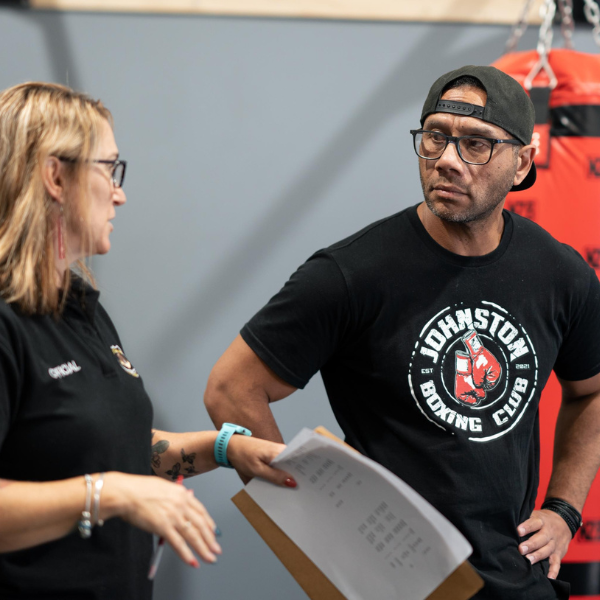 If businesses want to show their support, what are the different ways they can do this?
I would be very humbled and honoured for any support from fellow Chamber members. The first and easiest thing to do is contact me directly. Any business that purchases two or more Gold or Silver tables will be considered a major sponsor. We'll be promoting these businesses on the big screen and acknowledging them as a major sponsor throughout the night. They will also receive a mention in UNO Magazine, and I'm offering a special discount for Chamber members who purchase a Gold or Silver VIP table. Get in touch to find out more.
We'll be holding an auction on the night to help raise funds. So, for any Chamber member business who would like to show support by donating something towards our auction sale, please feel free to get in touch.
Johnston Boxing Club is a fully equipped boxing gym that offers private training sessions and adult classes three times a week. Boxing is a fun and exciting way to get fit and build confidence. For more info, or to get in touch email Brendon.johnston@hotmail.com. 
---
Looking for more business tips and advice? Head to our Latest News section.