At this year's BWN Speaker Series, we are celebrating women who are 'Paving the way' in their respective industries. Women who have walked remarkable and rocky paths, overcoming obstacles, thinking differently, and exploring the new frontier in business.
With that in mind, we're taking a moment to recognise three noteworthy local women who are retiring this year. They have each left an incredible mark in industries – and have most definitely 'paved the way' for others.
We at the Chamber have had the privilege of working closely with all three. They are smart, clever, humble women, who have consistently given back and supported other women in their careers. We celebrate their journeys and thank them for their generosity.
Spotlight on Ruth Jackson-Smith 
Investment Advisor at Craigs Investment Partners
Q: How long have you worked at the same firm? 
A: I started working 47 years ago for Barclays Bank in the UK and spent 24 years in various aspects of banking (commercial & residential lending, and asset management) before I found my passion as an investment adviser. In 2000, Craigs tapped me on the shoulder to become an investment adviser in the Tauranga office. It was Sarah Barlow, Bridget Cummins and myself amongst a sea of blokes!
Q: What do you perceive or feel is your greatest achievement within business?
A: Absolutely without a doubt, it's been helping, and seeing, clients achieve and manage their investment objectives through the different phases and challenges of their lives. I have clients who are intergenerational – where I initially managed the portfolio for the parent, then a child/children inherited, and now often may have their children/siblings/inlaws too. These family relationships are precious, priceless, and are built on trust. 
Q: Where do you see the career potential now for young women beginning their careers, as opposed to when you began yours?
A: There are significantly more opportunities, and more flexibility, offered for women and companies now actively seeking women advisers – it's certainly a big change from when I started. We all build relationships and we 'gel' with some and not others, and often women like to deal with women as they feel we better empathise and understand the challenges they may face. This potential hasn't always been appreciated or understood.
I'll always remember Sir Dryden Spring, at the Chamber's BWN Conference several years ago, saying that you ignore women at your peril given they would be 50% of your potential market or client base. Wise words I remember thinking from an inspirational man who I felt was ahead of the curve in his thinking at that time – and that many could learn from!
Q: Did you plan this career, or did it happen?
A: As much as I hate to admit it, I rattled around in banks for many years and it took me a long time to realise that my passion was for investing and not lending! Once I got that bit sorted, I was away. I did masses of extramural study to gain my qualifications (with phenomenal support of my partner) and having the opportunity to move to Craigs was a leap of faith at the time but was definitely the best thing I could've done!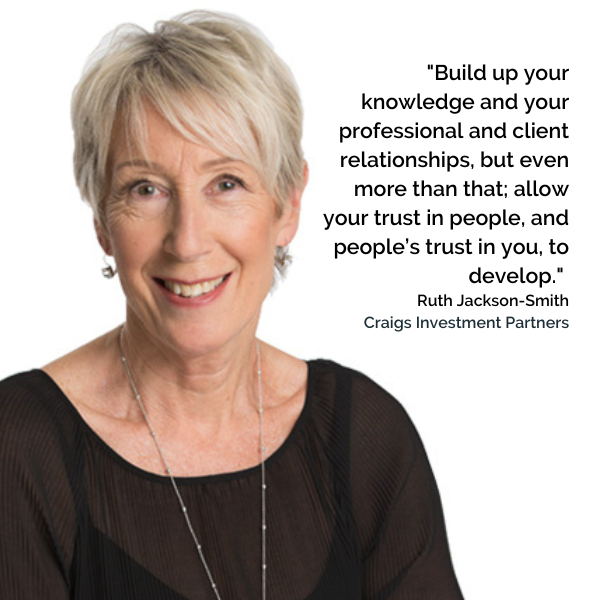 Q: What advice would you give that young woman now, with all the experience and wisdom you have gathered along the way?
A: Build up your knowledge and your professional and client relationships, but even more than that; allow your trust in people, and people's trust in you, to develop. Trust, experience, and respect take time and do not grow on trees. And you have to build confidence (which often goes hand in hand with knowledge) too.
Experience and relationships are massive (with sadly no shortcuts!) so try not to be impatient getting that business. I strongly believe if you look after your clients well; are honest, diligent, accessible, and reliable – then the rest will follow.
Q: Is there anything you'd like to say?
A: No…I think that's enough from me. Other than to say (that's me, I can keep talking!) we spend a lot of time at work, so it's vital you enjoy it (most of the time). If you don't, then make some hard calls and find something you do want to do. It took me a while (too long), and moving into investment advisory wasn't an easy path at that time, but here I am towards the end of my career and I believe I can put my hand on my heart and know I always strived to do my best.
---
Looking for more business tips and advice? Head to our Latest News section.