Our AGM and board elections 2023
Tauranga Business Chamber is led by our members, for our members
As a Chamber member, you play an integral role in electing the right people for our Board to effectively govern our direction and delivery
Calling for nominations for the Chamber board 2023 – 2025
Tauranga Business Chamber is calling for nominations from members to join our 2023 Board.
Our Board members provide governance oversight, set our strategic direction, and are instrumental in ensuring that we're on track to meet our core purpose: to support and champion people in business.
This is a particularly good time to be involved with the Chamber as we near the end of our change programme, giving the incoming Board a fresh platform to take us to the next level.
There are seven positions available, all with a two-year term. If more nominations are received than positions available, then an election by members will determine the Board.
If you, or someone within your organisation, would like to be nominated, here's what you need to know:
Nominees and nominators must be financial members of the Tauranga Business Chamber. Please ensure your current membership is up to date.
The nominee needs to identify two nominators to complete the application – all three persons need to be from different member organisations.
Nominees need to submit a 100-word bio and head shot. This will be used in our communications and marketing materials throughout the nomination and election process.
You can access our online nomination form here.
Deadline to submit your nominations is 5pm Friday, 11 August.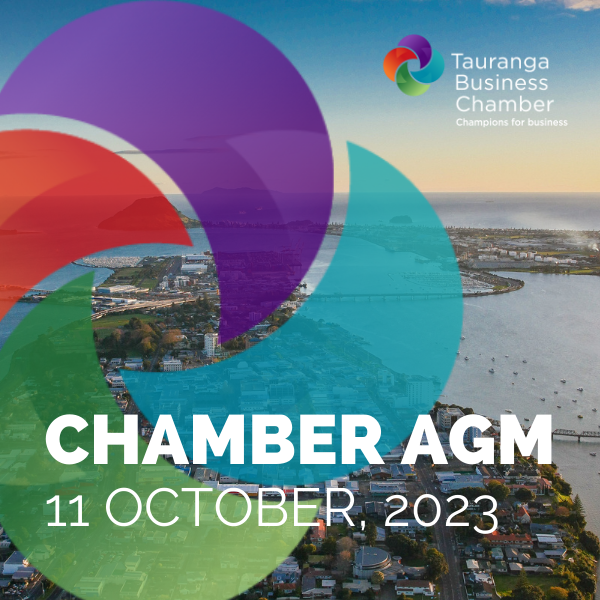 NOTICE OF AGM 2023
This is a notice to members of the Tauranga Business Chamber that the Annual General Meeting will be held on 11 October 2023.
This is a chance to welcome the incoming Board, as well as review the year that was, and discover what's in store for the future.
It is free for members to attend the AGM – register here.
The AGM agenda will approve last AGM minutes, present the 2023 financial report, confirm new Board for 2023-2025, and set the auditors and honorary solicitor for 2024.
If a member wants to raise any topics at the AGM, please email the CEO by Tuesday 12 September 2023.
If you have any questions about either the Board nominations or AGM, please email them to CEO Matt Cowley.
ANNUAL REPORT 2022/23
It is an opportunity to reflect on the year that was, showcase the activities we have undertaken, and present the financial progress of the organisation to our members.
Access previous Annual Reports from your member login.