Networking is about creating a healthy culture of sharing and collaboration in a space that you're comfortable with, whether that's one-to-one, in a group, in-person or online. Connecting with other businesses, potential customers, partners, suppliers, mentors, and peers can help you achieve your business goals, grow your business, and find support in challenging times.
But how do you network effectively? Read on to learn the different types of networking, the benefits, tips for successful networking, and how being a member of the Tauranga Business Chamber can support networking in your business community.
What are the different types of networking?
Networking simply means connecting with others, and there are many ways this can take place. It's important to find networking activities to fit your business goals and your personality. Remember, if you're not comfortable attending events, there are other options—the important thing is to be proactive!
Types of networking include:
in-person events in the local business community
local meetups in smaller groups
training programmes and seminars
industry events held by recognised organisations
conferences and trade shows
online forums and discussion groups
reaching out to other businesses and individuals, either in-person or online
Benefits of networking
Networking provides a catalyst for growth by developing connections on several levels—as an individual, as a business, and as part of a wider local, regional, and national (and sometimes international) community. There are several ways success can be achieved with networking.
Introduce and grow your business
Networking is an opportunity to raise the profile of your business, generate leads, increase sales and introduce the person or people behind it. This boosts credibility as the business community learns about your business, what it does, and also its ethos and culture. Networking enables you to interact with a wide range of people who may be unaware of your business.
Collaborate with others
Networking opens up ways of working strategically with complementary businesses on products or services, or other joint ventures such as marketing campaigns and events. Be on the lookout for businesses that align with your values, especially around areas such as sustainability and social responsibility.
Generate new business for others with referrals
Building a true business community means sharing knowledge, and learning about other people's businesses is a large part of this. While you may not always require a new contact's products or services, you may be in the position to refer them on to others. This helps to build up a reciprocal relationship, where people think of businesses within their own community before looking further afield.
Advance professional and personal development
As a business owner, you're often faced with a steep learning curve, even if you've been in business for a while. What better way to learn than from others who have been in a similar situation or who can offer expertise in a specific area? Networking gives the potential to find a mentor or peers for support and guidance and stay relevant and up-to-date on industry trends and best practices. There's also the chance to learn how others are running their business and the products and services they use, for example getting feedback on software, or advice on purchasing equipment.
Attending networking events also enables you to build confidence, self-esteem and develop new communication skills in a safe and supportive environment.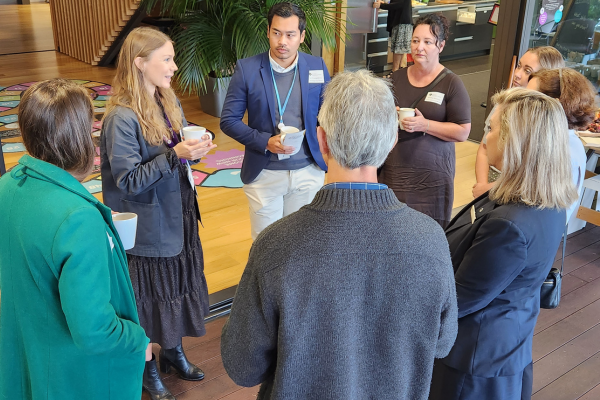 Tips for effective networking
It's important to remember that interacting with others doesn't come naturally for everyone. It involves some risk—sometimes you're putting yourself in a situation where you're not 100% comfortable. But with a little preparation, you can ease some of the unknowns, and gain even more from your networking experience. Some recommendations:
Define what you want to get out of the networking event. Make connections? Re-connect with someone? Engage with business owners within your industry?
Do some research, both about the event itself, and also who is likely to be attending.
Be genuine and helpful in all interactions. Remember, most people attending events are not there for the hard-sell; they are there to connect with other like-minded businesspeople.
Remember, that not all networking events will suit you and your business. Learn what works best and put your efforts there.
Etiquette is super-important, so remember to follow up, connect with people and support their business, and say thank you for all help offered.
Don't forget to be yourself!
Networking with the Tauranga Business Chamber
Tauranga Business Chamber offers many ways of connecting with your local business community. The best ways to keep in touch with what's going is to: