HITT Projects is a consultation, construction, and project management company. With over thirty years of construction experience, founder Kevin Long, initially stumbled into the industry by accident.
After finishing college, he was invited onto a large commercial construction site by his father to get some work experience and stop him bumming around, and the rest is history. We had a chat with Kevin from HITT Projects to find out why he started the business…
– – – – – – 
Tell us a bit about your career before Hitt Projects – how did you get into this industry?
I've been in construction for just over thirty years now, not bad considering I got into it by accident. I originally wanted to be a fast jet pilot, but my eyesight wasn't good enough. Eventually, not knowing what I wanted to do, I got dragged to a very large construction project my father was running to get some work experience and stop me 'bumming' around. I loved seeing the building coming up out of the ground and the work that was involved. I ended up working up the management route. Fast forward to 2010 and I'm in the middle of the Canterbury earthquake. This gave me the opportunity to move to client-side project management and undertake some of the most prestigious projects for larger clients.
Why did you start Hitt Projects?
I've seen too many project management (PM) companies that are run by bean counters that must take on any work to 'feed the machine'. This creates PMs that are disenfranchised and really can't give the best for the client or the project. We pride ourselves on being able to offer the best for our clients and their projects.
What makes Hitt Projects unique?  
Being one of a handful of people who have successfully moved from the worksite to client-side management, I have worked in all sectors. As such, I've seen first-hand the importance of building high-performing teams and what can be achieved in a team that trust each other. We may be a small new company, but we certainly punch well above our weight.
What does HITT stand for? And why are these values important to your organisation?
HITT stands for Honesty, Integrity, Trust, and Team. It's something that's incredibly important to me and that I live my everyday life by. They are at the forefront of everything we do in our personal and business lives. Who wants to be around anybody they can't trust? Trust is built through honesty and integrity and without any of these, you won't have a team.
What projects have you worked on that you are particularly proud of? 
With all the experience under my belt, I can honestly say that I have found something on every project that I can be proud of. The main standouts are a 96,000m2 warehouse completed in just 16 weeks (which was the largest single-story building constructed in Europe in 2003).  The award-winning Dunedin Law Courts, on behalf of the Ministry of Justice, which involved earthquake strengthening and refurbishment of a beautiful heritage building. Lastly the Hagley Pavilion, the first anchor project in Christchurch after the earthquakes.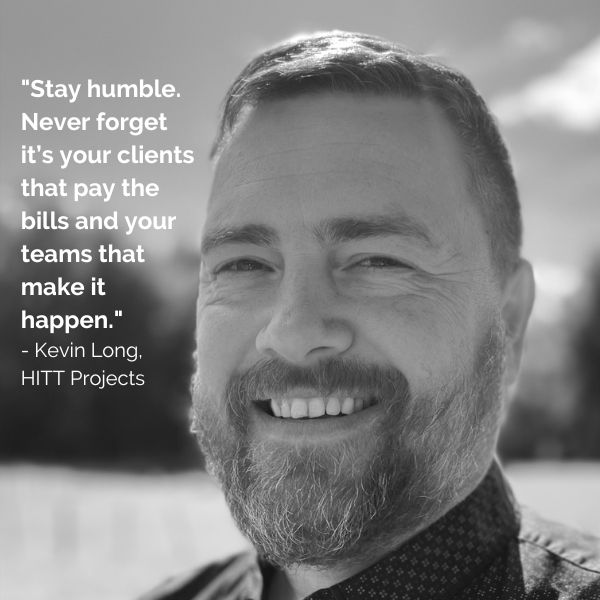 What services does Hitt Projects offer? How can you help the business community?
We can take your building idea from conception through to completion. We'll undertake the business case, employ the design teams on behalf of our clients, employ the contractor, and manage the design to ensure it stays within budget whilst still delivering the client's needs.
Tell us about your team – what makes them a great team/what skills and experience do they have?
I am lucky enough to have amazing support from two teams… The first is my family, who can offer their skills in the way of marketing, admin, PA, and tea-making (most importantly). Secondly, I am part of an independent collective of highly qualified and experienced project management professionals called Team Projects, who openly network, share ideas and provide backup and support to one another. This allows me to compete with larger companies without having the overheads.
When you're not at work, how do you spend your time?
I love getting out in the bush, hunting, and tramping along with summertime fishing. I've been an instructor for the Tauranga Youth Search and rescue for the past three years. And I've just taken up golf…tbh it's so bad you can't call it golf.
What's one piece of advice you would pass on to other business owners?
Stay humble. Never forget it's your clients that pay the bills and your teams that make it happen.
---
Looking for more business tips and advice? Head to our Latest News section.