Thanks to everyone who completed our March 2023 straw poll. We'll be running these quarterly, so look out for our next poll in June, and read on for a summary of March's results.
We received a strong response to our March poll, where we asked you – the Tauranga business community – where you stood on key local issues, including:
How you felt about Tauranga City Council returning to a fully elected Council next year;
Whether you supported Tauranga City Council's plans to raise commercial rates for businesses; and
What the major challenges are for business leaders in 2023.
The results clearly showed many of Tauranga's business leaders have concerns about the return of elected members to Tauranga City Council next year.
Well over half of respondents (57%) said they had concerns, or were anxious, about returning to a fully elected council in July 2024.
There is a strong sense that the city has moved forward under the Commissioners, and people are nervous about potentially going back to the future.
As one respondent said, "we need councillors elected based on skills, rather than personalities and personal agendas".
The need for stronger leadership was a theme among respondents, along with a sense that the city has moved forward under the Commissioners' leadership.
"The Commissioners have done so much more than the 'elected' members," said another respondent.
About a third (33%) of respondents said they were happy to return to a fully elected council, while just under 10% preferred not to say.
In other results, 62%  of respondents supported Tauranga City Council's plan to keep increasing commercial rates to address the city's transport, housing and amenity issues, while 30% opposed and 8% preferred not to say.
Feedback clearly showed businesses overall are happy to pay greater rates, as long as they are seeing tangible results in the right areas.
As businesses continue to struggle with various challenges, business leaders reported the cooling economy, overall rising cost of business, and staff shortages as the three greatest risks to their business this year.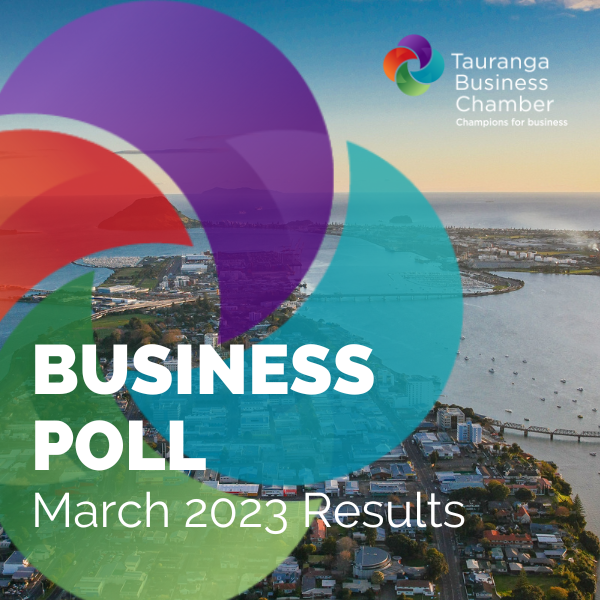 In this month's video, Matt talks about the increase in minimum wage, local business and the current economy, and the Governments proposed transport policy. He also introduces the results from our recent straw poll, and the Chamber's new membership model.
Looking for more business tips and advice? Head to our Latest News section.