Thanks to the team at Modern Office for hosting our May BA5.
The May BA5 event was another opportunity to network and connect with businesses from across the Bay, and welcome new faces and regular attendees.
Host David Littlewood, Modern Office's Director of Sales and Marketing, provided insights into the Modern Office business journey, and updated us on the trends the team is seeing in client workspaces.
Over the past 16 years Modern Office has grown from a two-man-band to a team of around 15 and offers office furniture and soft fit-out advice to companies of all sizes and needs — whether it's one chair or a full office revamp. Three Business Development Managers lead a full-service offering, comprising floor planning, product recommendations, design advice, delivery, installation, and post-sale support.
Office workspace trends
In his presentation, David discussed current trends, including:
noise reduction with the use of acoustic products to create a quieter workplace, add colour, organise spaces, and enable productivity.
designated areas for staff collaboration within open-plan offices, to encourage dialogue and creativity.
biophilic design involving the use of natural elements such as plants, natural light, and other elements of nature to bring the outside in and support well-being.
adjustable height desking to allow movement during the workday for better health and posture.
hybrid working becoming the norm, with higher levels of productivity and staff satisfaction as some of the key benefits as work is done around family and personal commitments.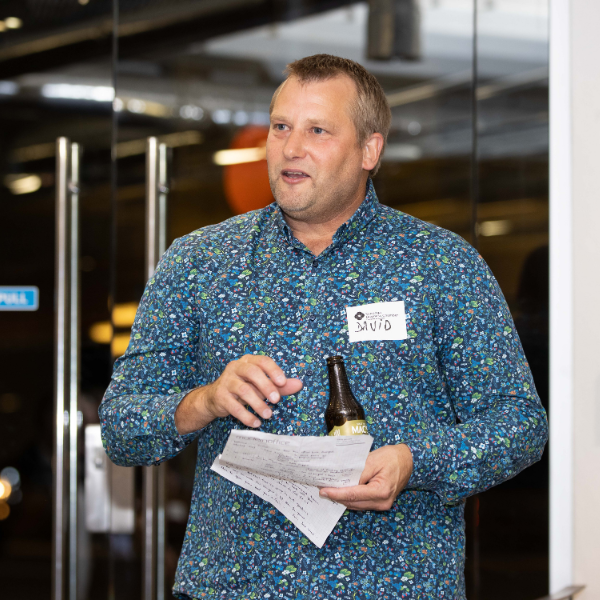 Thanks to everyone who joined us for our May BA5. Join us for our next BA5 at Coombes Johnston BMW on 7 June.
Thanks again to our Principal Sponsors NZME and Farmer Autovillage.
Interested in upcoming Chamber events? See our events calendar.
Photos by Salina Galvan Photography.
---
Looking for more business tips and advice? Head to our Latest News section.