Despite challenges, the CBD is being touted as an asset in the attraction and retention of staff say future-focused professional businesses* located in Tauranga's City Centre.
A poll of city centre corporates found that 61% agreed that being in the city centre was an asset in the long term, whereas 20% considered their location a liability.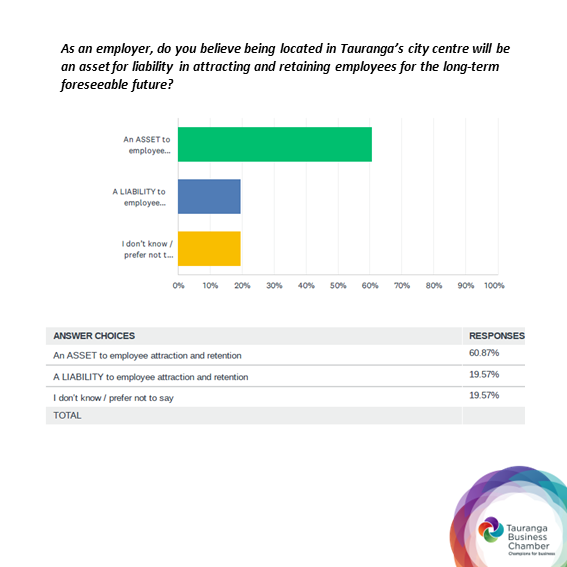 To manage transport and public safety considerations, 51% of respondents said staff sought more flexible arrangements, such as leaving the office early and remote working. 22% said their staff were currently adjusting to challenges.
The rise in employees wanting to work remotely is in line with the global trend of flexible working arrangements. Staff focus their in-office days for collaboration with other team members and their key customers, which the CBD caters for extremely well. – Matt Cowley, Tauranga Business Chamber CEO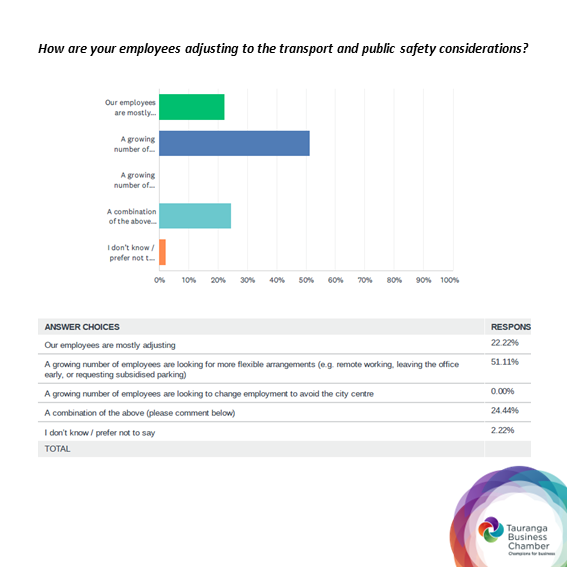 With the planned development, civic investment, transport considerations, and staff/customer feedback, 56% of respondents plan to stay within the city centre for the foreseeable future. A further 28% are open to all options.
Professional businesses and corporates are largely committed to the city centre because it's where their key stakeholders are, and their staff are looking forward to the new amenities, as compared to the alternative options across the city. – Matt Cowley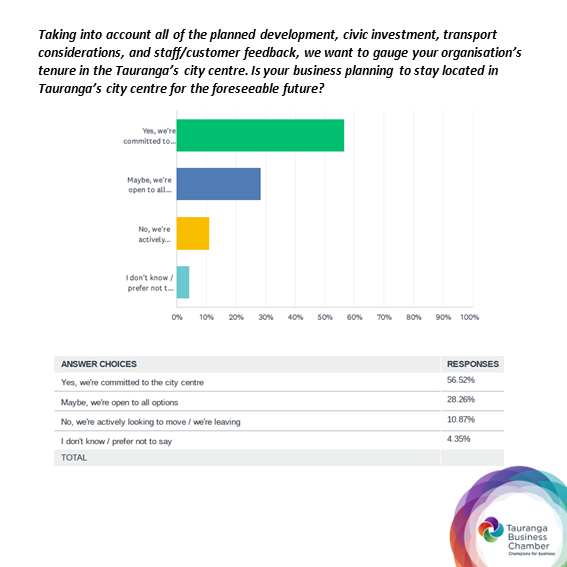 Comments accompanying the poll were varied, showing both the positive and negative sentiments of working in an environment beset with change.
One respondent said the CBD will be an asset if the revitalisation is 'done with amenity in mind. If it is done poorly it, in conjunction with outdated infrastructure, will be a liability.'
Another respondent said 'it feels at a tough time at the moment with all the works going on but once some of the regeneration is done and Cameron Road is complete we will be in a good space.'
Conversely, another respondent said 'we strongly believe and have been huge advocates for the city centre, but Grey Street where we are based has been overrun with homeless and problems… For the first time in six years, we are considering a move for the safety of our team.'
The ease and cost of staff commuting to the office, as well as the public safety concerns, are challenges facing all city centres across New Zealand. Nevertheless, professional businesses in Tauranga's CBD would like these concerns prioritised to ensure the city centre continues to be attractive. There will eventually be a tipping point. – Matt Cowley
*The poll excluded retailers, hospitality, service businesses, and government agencies