With the end of daylight savings and the upcoming Easter and Term 1 school holidays, it's evident that our peak visitor season is drawing to a close.
As the first 'normal' visitor season we've had since Covid-19, and with unseasonable weather events cancelling several popular events, we were curious about how the tourism market fared this summer.
Tourism Bay of Plenty General Manager, Oscar Nathan has the latest…
Extending the welcome mat
The return of international visitors has certainly been welcomed by the tourism and hospitality businesses that had a particularly rough ride during New Zealand's prolonged COVID-related restrictions.
More than 155,000 passengers have been aboard the 105 cruise ships that have been calling into Tauranga Harbour since mid-October.
Our data shows that the cruise ship schedule, local walks, and cycle trails have been the most searched pages on our website recently.
However, the 2022/2023 visitor season certainly threw up some new challenges, which mainly revolved around the unseasonable summer weather we had to endure. The Coastal Bay of Plenty was fortunate to largely escape the worst effects of the heavy rain that fell in other nearby North Island regions, including the devastation that was wreaked elsewhere by Cyclone Gabrielle.
In fact, our region benefitted from hosting extra domestic and international visitors who had to adjust their travel plans and divert here from other badly impacted regions. However, a few local hospitality, activity and accommodation businesses did have to close temporarily due to weather damage during this time, while others had to endure booking cancellations.
An average of 5,000 international visitors a day have been in the Western Bay of Plenty region (including Tauranga) since New Zealand's border fully reopened in August last year. This peaked at nearly 11,000 per day during the Christmas and New Year period (25 December to 2 January).
Visitor spending patterns
Recent data shows international visitor spend in Tauranga this season has been 31 per cent higher compared to the same period pre-COVID (October 2019 – January 2020). The key sources of international visitors continue to be Australia, the USA, and the UK.
Domestic visitor spend in Tauranga from October 2022 to January 2023 fell approximately 10 per cent compared to the same period the previous year, but was 7 per cent higher than what domestic visitors spent in the city pre-COVID (Oct 2019 – Jan 2020). The appeal of overseas travel since our border has reopened, higher domestic living costs, the unseasonable summer weather, and price inflation have all factored into these domestic results.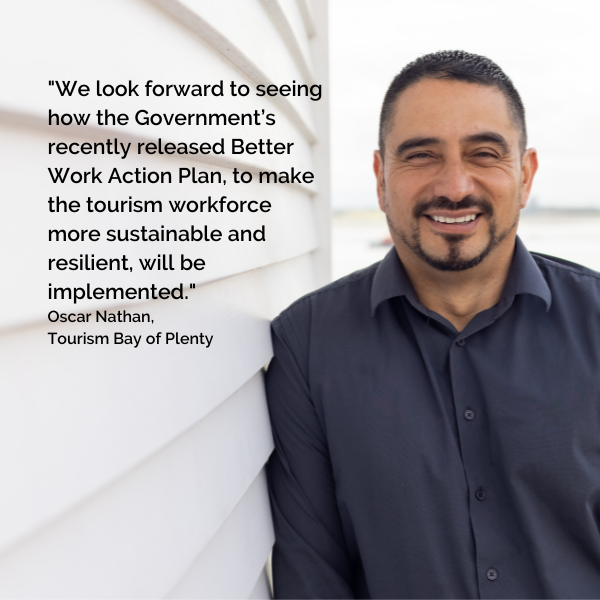 Where to from here?
Staff shortages have been causing issues. This has been most noticeable in hospitality but has also been affecting retail and tourism businesses. Some accommodation providers have reported difficulties in attracting and maintaining the number of housekeeping staff required, and driver shortages have been impacting some visitor tours and transport providers.
We look forward to seeing how the Government's recently released Better Work Action Plan, to make the tourism workforce more sustainable and resilient, will be implemented. The Plan represents the collective work of 20 New Zealand tourism leaders to address four key systemic issues in our sector: demand fluctuations, pay and conditions, firm maturity and scale, and current and future skills gaps.
In the meantime, Tourism Bay of Plenty will continue to focus on our remit to broaden the scope of visitor activities throughout our coastal region, while also increasing domestic and international visitation during our off-peak season.
Tourism Bay of Plenty is a council-controlled organisation, promoting the Coastal Bay of Plenty's natural attractions and supporting visitor activities from Waihī Beach to Ōhope (and everything in between).
Whether you're a local or a visitor, you're sure to find something new to do or explore on bayofplentynz.com
---
Looking for more business tips and advice? Head to our Latest News section.