What do you think billion-dollar companies like Disney, Microsoft, Netflix, and Air BnB have in common? These businesses and many other billion-dollar companies either started or accelerated during a recession.
During tough times it is common for wealth to be redistributed. Some businesses will close down, and new ones will start.
Be guided by a mission
A little trip back in time tells us that in 1928, brothers Walt and Roy Disney introduced the world to Mickey Mouse via their short-animated feature Steamboat Willie. A year later, in 1929, the duo incorporated Walt Disney Productions as the Great Depression started. The brothers knew that America needed a smile more than ever and the brothers could navigate the challenges of the depression, growing their business to the point where they could begin work on their first full-length animated feature right after the great depression ended.
Microsoft launched in 1975 following an oil crisis and a stock market crash that led to a 16-month recession, where the GDP took its worst hit in nearly 20 years. This decline did not stop Bill Gates and Paul Allen from developing their new computer software business, which launched on April 4, 1975, just days after the recession was officially over.
Back home, we have found ourselves in an economic downturn. These kinds of events are often only recognised after they are over, so when we are in the middle of one it's important to be guided by a mission; like the Walt brothers who wanted to put a smile on people's faces or Microsoft who wanted to see a computer in every household. So, what is your mission? What problems are you solving for your customers?
What should you consider as a business owner?
We exist and operate in an economic environment, and any economy is driven by several powerful factors such as spending power and consumer behavior.
Spending power normally depends on our ability to produce a product or service, which gives us income, our spending power. Our behavior is affected by political, social, and other external influences.
A behavioral example will be as simple as something like two restaurants, side by side, where one is full and busy, but the other one next door is empty. What can we make out of that? Well, from a behavioral point of view, customers want to be in a vibrant environment as we are all very sociable, so they will tend to join the busy-looking restaurant. And from the operational point of view, the situation begs the question: what is one owner doing right, and what is the other doing wrong?
Here is your to-do list:
Prepare to work hard; by that, I mean have a mindset of a winner who will not take a no for an answer. If you want financial freedom, happy team members and satisfied customers, roll up your sleeves.
Reach out to business advisers and mentors who know how to start a business and who can help you with the initial set-up and systematization of a business. Be it a professional business adviser or a friend who successfully built a business, do not be shy; get in touch with them. A piece of good advice will save you time and money.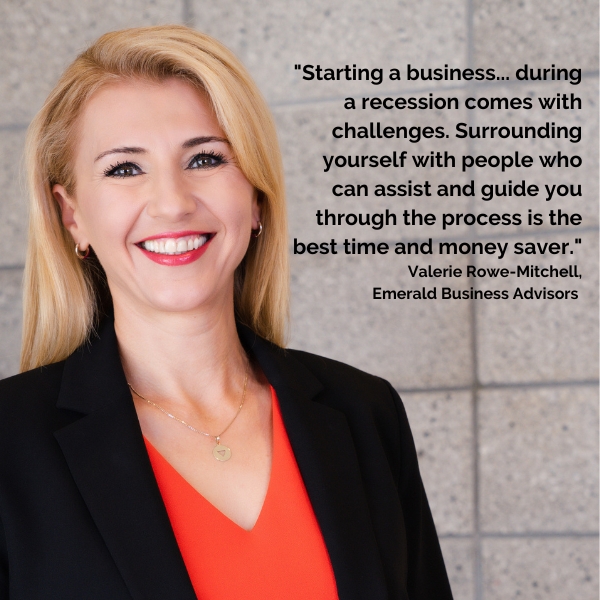 Use technology and set up systems from the start. There are many tools available to us and they will take care of much admin and improve your efficiency. You need to be more efficient than your competition.
Use reduced competition to your advantage. Many established businesses struggle during a recession, which creates an opportunity for your business to fill a gap in the market. If your competitor goes down, all their clients will need to be looked after. Be there to pick up the market share, in other words, keep marketing yourself; keep telling your potential and existing clients that you are in business, and you are there to provide them with the best service or product.
Keep an eye out for top talent. A larger pool of skilled workers may be available during a recession. This can make it easier to recruit top talent who will be willing to work hard.
Starting a business or expanding an existing business during a recession comes with challenges. Surrounding yourself with people who can assist and guide you through the process is the best time and money saver.
Yes, there is limited access to financing, yes there is decreased consumer spending, but there is also an opportunity, if you have clear goals, develop a solid plan and be ready to execute.
 With more than 25 years of experience in accounting and business advisory, Valerie and the team from Emerald Business Advisors have the best solutions for your business. Whether it is a small local electrical company, or a medium-sized construction business, Valerie is passionate about helping businesses grow and enjoys seeing customers' dreams come true when they're given the tools to help their business succeed. For more information, visit her website or contact Valerie at valerie@emeraldbusiness.co.nz.
---
Looking for more business tips and advice? Head to our Latest News section.