The Tauranga Business Chamber offers new business owners, freelancers, sole traders, social enterprises, and not-for-profits a one-hour free business advice session with our experienced business advisor, Derek.
These sessions help business owners understand how to get started, and consider their short-term and the long-term goals – and are available to any business owner in the Bay of Plenty.
Barry from Studio 1984 recently moved back to his hometown of Tauranga and took advantage of a free business advice session for his graphic design, branding, and packaging business.
We had a chat with Barry to find out how it went …
Business owners meet with Derek for many different reasons. For Barry, it was because he'd recently moved to Tauranga and wanted to connect with other local businesses in the Bay. An experienced graphic designer who had worked in London and Auckland for many years, he was interested in advice on creating more leads and generating more business.
Studio 1984 had been in operation for roughly 12 months in Tauranga, and up until this point, much of Barry's work has been generated by word-of-mouth.
He heard about the Chamber's free business advice session from our Growth Advisor, Roz; who suggested he take advantage of a free business advice session, so he met with Derek via Zoom.
Derek identified the need for a clear business plan for Barry's business, to help recognise areas of growth and identify what might be missing from his business. He recommended that Barry network and link up with other businesses in similar industries and suggested that he join the Chamber.
Barry says that meeting with Derek was "highly insightful", and that he'd identified that Barry wasn't spending enough time on new business. He particularly liked the idea of approaching companies that have cross-over services to try and reach new businesses and clients.
The biggest learning Barry took away from the session was that there are easy ways to market yourself, such as vehicle signage, joining a business network, or approaching agencies you would like to work with who could benefit from your expertise.
Based on this feedback, Barry's plan for the next six months is to slowly grow, network, and meet up with local businesses and other creatives in the area. As a result, Studio 1984 has now become a Chamber business member, for more ways to connect and upskill through events and training.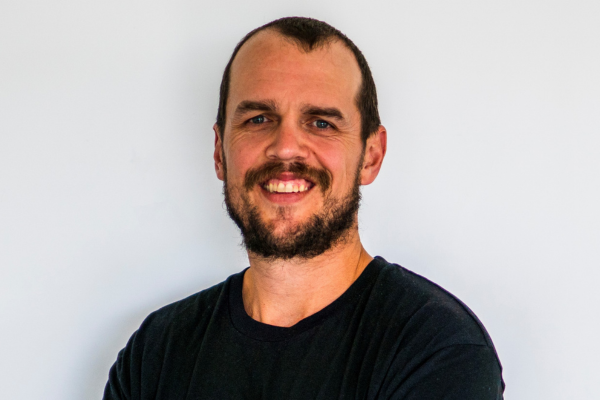 Barry loves being back in the Bay and says if anyone is looking to start a new company or product and would like help bringing their ideas to life, to get in touch for a coffee or Zoom call.
Studio1984 is a boutique graphic design studio based in Tauranga, that specialises in branding and packaging design. Founder, Barry Wylie has over 15 years of experience in design and has worked for large, leading retail agencies, and small award-winning design agencies both here and overseas. Barry specialises in branding and packaging design, but he wears a lot of hats – from designer to account manager, to project manager, to chief coffee maker. To get in touch, email barry@studio1984.co.nz
Learn more about the Tauranga Business Chamber's Business Growth Hub here.