If you are one of many businesses struggling to find staff, it's time to think outside the box and consider a 'new' untapped talent pool.
In New Zealand, the unemployment rate for disabled people aged 15 years and over is more than double that of non-disabled people. Of those unemployed, many are highly qualified, ambitious, keen, and loyal – just waiting for an opportunity.
Businesses often don't consider employing disabled people due to the perception that it will cost too much to accommodate a disabled person's needs, or that having a disability will negatively impact fulfilling role requirements. On top of these, many businesses worry about managing excess health and safety concerns.
Kerry Pearce from Momenta, an organisation that helps people with a lived experience of disability access life-enhancing opportunities, dispels some of the common misconceptions about employing disabled people.
Productivity will decrease
There is a belief that disabled people are somehow less capable; however, research shows the opposite. The Maxim Institute found "90% of people with disabilities rated average or better (than people without disabilities) on job performance" and "86% of people with disabilities rated average or better on attendance."
Statistics NZ found people with disabilities tend to stay longer (on average three years) and took less sick leave than their non-disabled colleagues.  
There are too many health and safety risks
It may surprise you to learn that people with disabilities have less health and safety issues than their non-disabled peers. An Australian study reported that the number of health and safety incidents for a disabled employee was six times lower than that of an average employee. It makes sense when you consider disabled people spend their lives navigating a world (and its hazards) which is often not designed with them in mind.
Employees with lived experience of disability will not only be able to highlight areas or conditions in the work environment that present barriers to those with access needs. They can also provide insight into physical space, products, and services to help accommodate disabled customers. As a business, highlighting these areas may give you an advantage over the competition – where you're accessing a broader, diverse customer base, ultimately increasing your profit margin.
It will cost the business more
Contrary to common belief, most disabled employees do not require anything different to fulfil job roles. For those that do, the cost is minimal and, in some cases, may be fully funded.
In fact, your bottom line may actually benefit. A study undertaken by Accenture indicated that businesses which actively seek to employ people with disabilities outperform businesses that don't. Among forty-five companies identified as standing out for their leadership in areas specific to disability employment and inclusion, had, on average over four years:
28% higher revenue,
Double the net income, and
30% higher economic profit margins than their peers.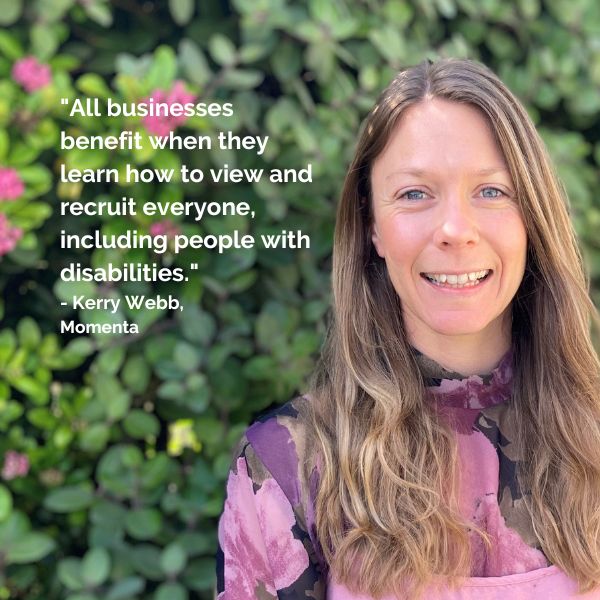 It's no surprise that companies such as Microsoft, Apple, Sony, Deloitte, and Virgin have taken advantage of such benefits and are committed to improving disability inclusion practices for their employees and customers.
Microsoft view "disability as a strength," not only for the talent and skills disabled employees bring to their individual role but for how they contribute towards the company's mission. Fittingly, the percentage of employees that identify as having a disability at Microsoft is almost double that of the total percentage of employees in the US who identify as disabled.
Stuart Pixley, Counsel for Microsoft's Health Team, notes, "the company's internal awareness isn't focused on 'let's accommodate the individual,' but on 'cultural competence for the company." The shift "does more than include diverse people—it empowers them." Continuing to keep Microsoft at the forefront of innovation and ability to create technologies built for all customers.
All businesses benefit when they learn how to view and recruit everyone, including people with disabilities, fairly based on capability and potential.
When employees, including those that are or become disabled, are given the tools and flexibility required to undertake their roles, productivity, job fulfilment and a sense of purpose benefit the business, staff, and customers. It provides inclusion and community internally and externally for all and sets the path toward changing mindsets and myths. One where we no longer need to label the disabled as a 'new' talent pool.
Momenta is hosting a Business @ Breakfast event on Wednesday, March 22. Click here to register. If you'd like to learn more about employing disabled people and how this can contribute to, and benefit, your company this will be a great opportunity to get in the room with the experts. In the meantime, if you'd like to contact Momenta to find out more, click here to get in touch.
---
Looking for more business tips and advice? Head to our Latest News section.