We're proud to champion our members' great ideas and battle the big challenges you face. It's been another big year of advocating for our members, and for local businesses.  
Our team engages with hundreds of businesses each month through our events, meetings, email feedback and business support services. We hear a lot about what is going well, potential opportunities, and the key challenges businesses are facing.
This year we have advocated across a variety of issues, including:
Dropping the Government's Covid-19 restrictions and traffic light settings
Highlighting the need to streamline NZ's immigration settings
Requesting changes to student allowance income thresholds so students can work more without impacting their allowance.
Uniting with other NZ Chambers to submit against Fair Pay Agreements
Supporting the Government's digital enablement of businesses, and lowering of merchant fees for electronic transfers
Extending the Commissioners' term leading Tauranga City Council (TCC)
Supporting TCC's investment into local infrastructure and amenities, but wanting to see outcomes achieved and good value for rising commercial rates
Supporting TCC to allow local businesses to trade during Easter
Asking Bay of Plenty Regional Council to reconsider its role in regional economic development and to reassess how it uses its investment income.
Submitting that the local passenger transport plan needs to be more realistic, focus on the transport users, and ease the obsession that buses will fix Tauranga's transport challenges.
Submitting against the Government extending thpoor-performingng Te Huia inter-regional passenger train into Tauranga, as it's likely to disrupt freight trains, risk more freight being moved by road, and create major opportunity cost from other investments.
Backing the development industry to highlight TCC's slow consent and certificate processing timelines, which has since greatly improved – credit to their team.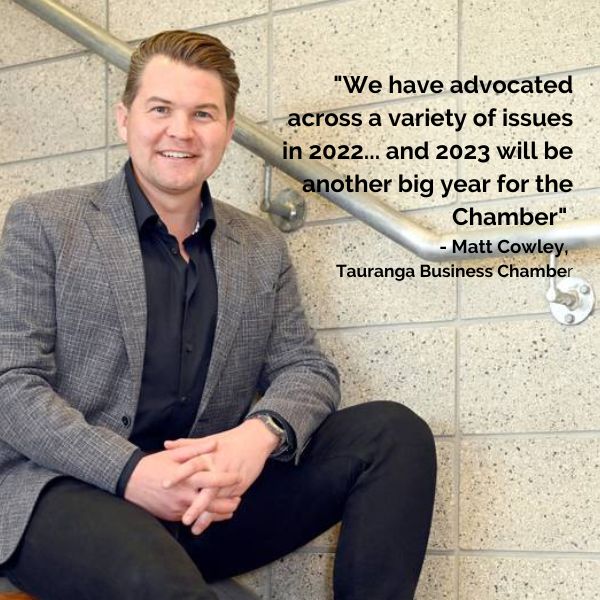 And 2023 will be another significant year for the Chamber as we continue to champion better outcomes for our members. Next year's General Election will give us opportunities to influence visiting politicians who are wanting your vote.
Next year, we will also champion local issues, such as:
The need for more industrial land to support the Western Bay's growth
More housing for our growing workforce.
Ensuring we get good outcomes from TCC's continued commercial rate increases.
Infrastructure investment to make the movement of people and freight more efficient throughout the Golden Triangle of Auckland, Hamilton, and Tauranga.
Thank you to everyone who provided us with their suggestions and feedback this year. With your help and insights, we are able to be the independent voice of local businesses across the Western Bay of Plenty and be at the centre of those brave conversations.
---
Looking for more business tips and advice? Head to our Latest News section.