As we move closer to 2023, there is something every business owner needs to focus on: Search Engine Optimisation (SEO). You may have an idea of what it is but wrapping your head around the basics is vital if you wish to ramp your website success up a gear. 
We asked new member Camilla from Joy Marketing 'what is SEO?', and why it is essential for your online presence and to help you reach your business goals.
—
SEO stands for Search Engine Optimisation and it is the practice of making a website rank higher on search engines. Ranking high will not only drive more traffic to your website but it will also increase your brand awareness, credibility, and make it easier for potential clients to find you online.
Having a beautiful website, competitive prices, a great selection of products or services and spot-on branding is fantastic. However, at the end of the day, your website needs to be optimised for search engines for people to find it.
How to outrank your competitors
Outranking your competitors requires a solid SEO strategy that is tailored for your website and your business goals. A website audit is a great starting point as it will make it possible for an SEO specialist to address any technical issues and identify your website needs. They will then work their way through a competitor analysis and keyword research to pinpoint what words or phrases your target audience is searching for to locate what you offer.
Moving on to the actual website optimisation, this is where everything will come together. Your SEO specialist may change the structure of your website and the web pages, fix any broken links, update URLs, rewrite title tags, and correct the heading hierarchy.
They will nail the target keywords by adding them throughout the site at the right places, ideally in correlation with a copywriter. This will make it easier for search engines to put your content into context. Your SEO specialist may also work on strategies outside of your website, identifying opportunities for backlinks that will build on your site authority.
All these efforts will make it easier for Google and other search engines to understand what your site is about, who you are targeting, and what you offer. As a result, your website will rank higher on searches that are relevant to your business and services.
Want to rank high on local searches? 
If you run a local business creating a Google Business Profile is the first step to local search success. It's free and a great way to boost your business's online presence and public identity. By optimising your profile, you are also increasing your chances of ranking on Google Maps in your local area.
How to optimise your Google Business Profile (GBP):
Add your basic information (phone number, opening hours, website)
Include your business address
Collect as many reviews as possible
Always respond to the reviews
Add products and include photos, prices, a link, and a description
Add fresh photos every week. It can be photos from your portfolio, of your physical location, staff members, and before and after photos – all depending on what kind of business you run.
You can publish posts in GBP. They are only visible for about a week so make sure to post something on a regular basis. Always include a link to your website.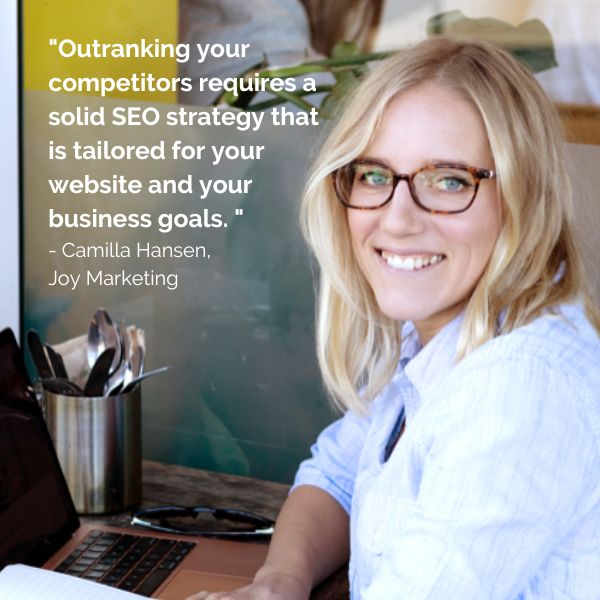 Taking your website to the next level
Growing your website's organic presence and rankings is a process that takes time, tactics, care, and expertise. Investing in an experienced SEO Specialist means that you will have a backed-up strategy in place that will make the road ahead smoother.
Letting an expert work their magic on your site can also be a great opportunity for you to either learn more or leave the stress behind. So, are you ready to take your business to the next level?
Want to take your website and business to the next level? Camilla from Joy Marketing offers web design and SEO services in Tauranga. She has 10 years' experience working with website optimisation, branding, eCommerce, and digital marketing. If you're struggling to reach your target audience and would like to increase traffic to your website, get in touch with Camilla at Joy Marketing to discuss your website and SEO needs.
---
Looking for more business tips and advice? Head to our Latest News section.