Meet Michelle Watson from IFIX Health.
Opening a business has always been a dream of Michelle's. Fast-forward an impressive remedial massage career that took her to the Rio Olympics, and she opened her very own community-focused health center serving both the body and mind last year.
Located in Otumoetai, Michelle's modern and homely feeling clinic IFIX Health houses a small group of passionate health professionals dedicated to delivering a variety of unique services that set them apart from other providers in the Bay of Plenty – something Michelle is proud to boast.
Get to know a bit more about Michelle and IFIX Health below.
Tell us a bit about your background – your career to date, your experience… basically, how what you have done has got you to where you are today.
After a long stint in banking 12 years ago, I decided to have a complete change in career and direction, which led to studying remedial massage in Australia.
After two years of study, I graduated and started IFIX Massage. I have had an amazing career travelling the world with sports teams. I returned home six years ago to continue IFIX, working with sports teams, and even attended the 2016 Rio Olympics.
I have always had a dream to open a health clinic with a community/homely feel. After lockdown last year, this dream evolved into IFIX Health. The aim has been (and will always be) to have a group of allied health professionals under one roof, offering complete health and wellbeing services.
When did you start your business?
I have been massaging for 12 years and IFIX Health opened in May 2021.
Why did you start your own business?
There is a gap for people to see a variety of health professionals from mind to body, especially with a homely feel, not a sterile clinic approach.
Tell us about your business: What services do you offer? How can you help our business community?
We have a massage, phycology, dietician, reflexology, and wellness therapist in the clinic. While Tauranga and surrounding areas have plenty of physio clinics, there aren't any businesses that offer the same comprehensive IFIX approach. We are proud to provide such unique services to the Bay.
What makes your business unique?
The non-clinical, community-based feel. We are also central with both accessible and free parking on-site.
When you first got into business, what is the one thing you wish people told you?
Owning a business is hard – it truly is. I've had a lot of barriers from Council to banks, but I was/and am determined to make my dream a reality.
In this first year of business, what challenges did you face and how did you overcome them?
I am still in my first year and continuing to learn. I have actually just partnered with a business mentor through Business Mentors New Zealand (facilitated through the Chamber) to help me construct a clear business plan.
And now, looking back, what have been your biggest learnings?
I am still learning and will never stop… DON'T GIVE UP!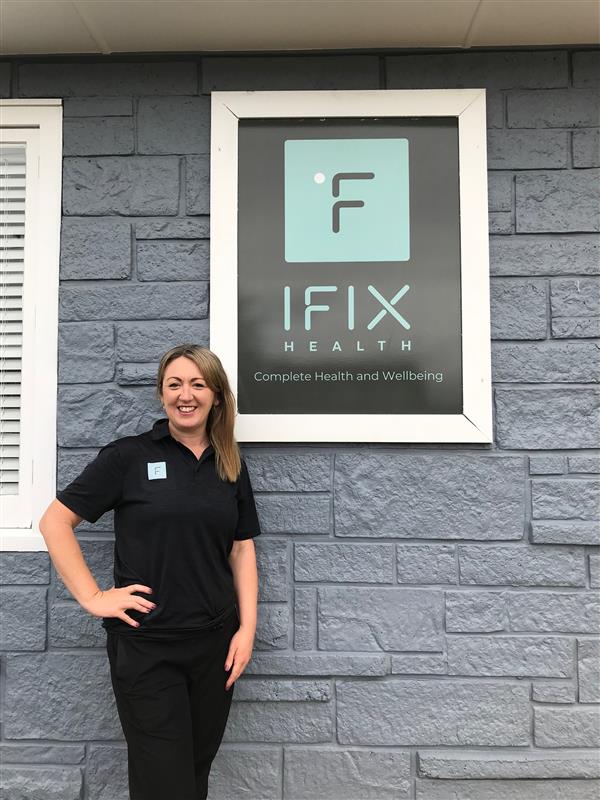 What's the one misconception people might have about your industry?
Considering massage, the misconception is that it is tailored towards relaxation, but this is not necessarily accurate as massage therapy can assist with recovery for all people of any age.
The lack of qualified therapists is scary, and people should consider this when booking.
You don't always need a doctor's referral!
What's the one thing you want people to know about your business?
We are a dedicated, skilled, and passionate team who care for our community and are here to help.
What are your goals (personal and professional) for the next six to 12 months?
I would like to have a more work-life balance instead of thinking about IFIX 24/7. For the business, I would love to create more brand awareness and become busier for our providers.
When you're not at work, how do you like to spend your time?
I love to spend time with my adult children, and partner. I also like to walk/run, relax at the beach during the Summer, and have great dinners out.
If you could impart one piece of advice to fellow business owners, what would it be?
DON'T GIVE UP! If you believe in what you are doing, it is worth the blood, sweat and tears (because there is plenty of those). Dreams do come true!
Sometimes, members can find it hard meeting people at events, so we want to take some of the pressure off that awkward small talk by shining a light on your business through our member profiles. 
Our member profiles are a great way to give the business community a taste of who you are and what you do, so when they see your face at one of our events they won't hesitate to make that all-important introduction. 
If you're a member and would like a profile, get in touch with our marketing manager Laura today.