Comedy Cellar is New Zealand's largest amateur team wine-tasting competition and an evening of laughs, learning, and entertainment. It's the perfect combination of humour, wine, and food rolled into a great evening and opportunity to team-build with colleagues, clients, and friends. Apart from a great laugh and night out, you might also learn a thing or two about wine from New Zealand's foremost expert too.
Tell us a bit about the background of the Comedy Cellar. How did it get started?
Over the last few years, audiences and shows have been evolving globally, as consumers want to be part of the event (experience) and not just an audience to it. With that in mind, Comedy Cellar was created around two of life's great joys, comedy and wine! We wanted a show/event that provided a high level of attendee participation, competition, team building, comedy, and education all rolled into one night which Comedy Cellar provides.
Tell us a bit about your team. What makes Comedy Cellar unique? Why does our business community need to know about it?
Apart from being a local competition, we are also a national competition and the only provincial (amateur) team wine tasting event in New Zealand where amateur teams and regions can track their scores versus other parts of New Zealand. Albeit this has been hindered by Covid the last few years. Comedy Cellar is a great leveller in that teams (tables) must agree on one correct answer per question, which encourages good debate and discussion amongst team members (colleagues, clients, friends, and family typically). On the night, you are competing against other local teams, but at the end of the evening, when scores are averaged, they can then be compared to other parts of NZ, so local teams then become one big team regional competing against other regions. It's a great catch.
What are some of the biggest challenges running an event and hospitality business like this?
Covid sticks out as the biggest thorn in our side in the last couple of years, and its single handily decimated the events industry. However, starting any new event and concept is also challenging, and you need to take a long-term outlook.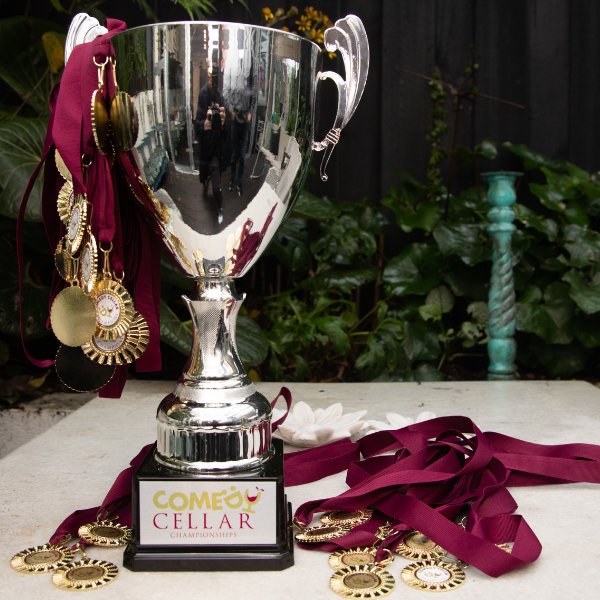 What are some of your successes? What has been some of your most enjoyable work?
Building the event and concept from scratch and then executing.
Can you tell us a bit about the Tauranga event and what makes it unique for the region? How can this help the local business community?
Comedy Cellar is highly competitive and a great team-building event for local organisations and companies. It also gives the Tauranga community the chance to compete against other regions, so is also great to build some provincial comradery.
Tell us what your customers say about you.
Unique and fun! Comedy Cellar is different, and they love the interaction and being part of it.
Is there anything else you'd like to add?
Yes, you can book and get more details here on our Saturday 3rd, December Tauranga event on our website.
---
Looking for more business tips and advice? Head to our Latest News section.