Reassurance, confidence and someone to share her business successes with – that's what Tiny House Builders managing director Rebecca Bartlett has found in her business mentor Lynette McClatchy.
Rebecca has been working with Lynette for a year and in that time has found huge support in having regular contact with the highly experienced, former business owner.
"It gives you the confidence to know you're not just some crazy person trying to be a business owner; you're actually running a business.
"That took a while to sink in, but Lynette helped me have confidence in myself, to make decisions and get that mojo."
Tiny House Builders started as a project for Rebecca's Dad. She and her now husband were looking to have a tiny home built and asked her builder father if he would construct one for them. In the process, there was a bit of interest locally around what they were doing, so Rebecca thought, 'Let's take it to the Tauranga Home Show and see what happens'.
"We thought it could be a hobby business for Dad to do into retirement, but it just took off."
Having invested in property in her twenties, using her accountant as a sounding board during this time, Rebecca knew the value of having someone experienced to talk to.
She contacted Business Mentors NZ when she was starting Tiny House Builders to help steer her in the right direction and was connected to Sarah Lockhead-MacMillan. The pair worked together for two years.
"I was looking for ways to control the ebbs and flows in production, so thought about franchising as an option. Sarah helped guide me on the process and introduced me to a franchise consultant to get it set up."
Rebecca – whose background also includes sales, marketing, kitchen and interior design and, most recently, fit-outs for large commercial offices – has now been operating the business for four years. In that time, she has seen the demand and interest in tiny homes grow and grow.
With a small team of three office staff and six builders, a new premise to plan for and build and two small children to raise, Rebecca says there is lots to do and plenty of roles to juggle.
Enter Lynette, who helps Rebecca focus on the bigger picture for the business.
"Every now and again when I have the whole picture in front of me and I'm working on lots of different things. I'll go to Lynette and she'll say 'Have you thought about this?' or 'How come you are doing it that way?'
"I find a mentor very useful for that reassurance you're on the right track."
Lynette says from her first meeting with Rebecca it was clear she was very knowledgeable and passionate about her business.
"She knew her product really well and has a huge range of skills from her background, which has enabled her to grow the business very quickly."
Lynette says her approach as a mentor is to be guided by what the mentee needs. With Rebecca she could see it was by helping alleviate some of the pressure that comes from juggling many roles.
"She has a lot on her plate all the time, so when it gets a bit much she will come to me for a quick download and off she goes.
"Often when we are talking, I'll listen and pick up on something that might save her on future problems down the line too, so we'll talk that through and find solutions in places she might not have realised."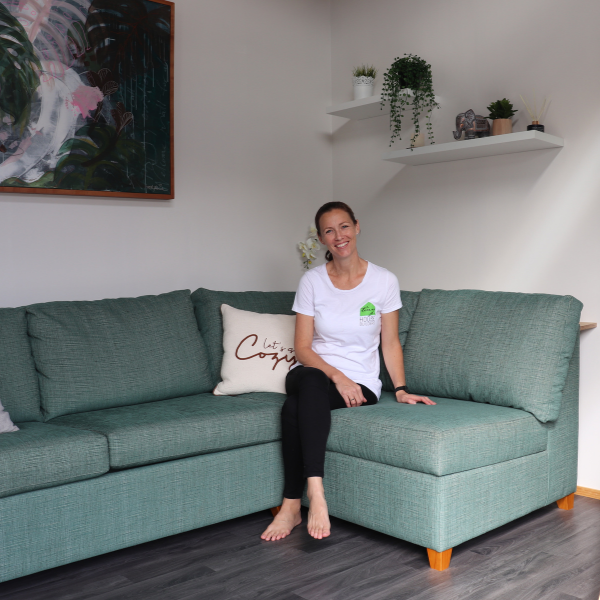 One of those areas was around the implementation of an integrated system called Buildertrend, which can manage your CRM, project management, estimates, gantt charts and more for streamlined production from start to finish.
"Rebecca mentioned she was using an Excel spreadsheet to manage a lot of her processes as she didn't have time to implement Buildertrend, so we discussed how she could outsource and get it moving," says Lynette.
Rebecca adds, "Lynette helped me realise we needed to think of the benefits long term and that was the push I needed to get it done. I just didn't have the time or brain space to get it up and running.
"Having an external consultant has been invaluable – not just to get the system in place, but to work with us to set it up how we need it to be."
Having a long-term approach is one of the biggest advantages of having a mentor, says Rebecca, and to help her maintain sustainable, achievable growth for the business.
"Lynette helps me stop and look at the future vision. You get caught up in doing the doing, so she asks, 'Where do you want to be?'
"I don't have plans to grow into a big manufacturing plant, but I want to continue to do quality builds, maintain our reputation in the industry and ensure there are no ebbs and flows in the work."
For anyone thinking about getting a mentor, Rebecca recommends, "Just do it".
"It doesn't take a huge amount of time and you can be as involved as you want. For me, Lynette has become like an extension of the business and we have developed a really nice relationship. I get a lot of value out of our chats."

Want to gain access to a mentor through the Chamber? Find out more.