Starting a hospitality business is never an easy task – let alone when you open one just five months prior to a nationwide lockdown!
But, through perseverance, listening to the right people and making sound business decisions, Ash Gee of Miss Gee's has pushed through and is now looking at 2021 with a positive attitude.
We discuss the learnings and the love of owning your own business with our Chamber Member.  
In a short paragraph tell me a bit about Miss Gee's?
Miss Gee's is a lively bar and eatery located on Masonic Park in Tauranga's CBD. We aim to create a space where people can create memories – whether it's sharing some of our food and drinks with friends, work colleagues or family, trying something new at one of our events or dancing the night away till the early hours, Miss Gee's has something everyone can enjoy.
I have a couple of other side hustles that were established prior to opening Miss Gee's that I am rebooting this year: Heydaze Event Management and Initiate. Both businesses are established around my desire to create opportunities for people to have fun and enjoy their time with others.
Why did you open your own bar & restaurant?
I wanted to create something where I could channel my creativity, determination and enthusiasm into. After working 9-5 since I was 17 years old for other successful business owners, I wanted to create a business where I could reap the benefits of my hard work.
I met a talented local musician, Sean Murray (pictured), who I hired to DJ one of my Initiate Barefoot Bowls Tournaments and told him my ideas. We spent the next couple of years putting on social events and music gigs around town. Off the back of this, we identified a gap in the market and just went for it. Miss Gee's was born.
What makes Miss Gee's unique?
The mixture of our food, drinks, music, nightlife and all-round culture. We are able to tap into many different types of customers but also strive to provide quality in all of these areas. We are surrounded by professionals in their respected areas that want to be a part of the journey. We are well connected to our target market so are able to easily adapt to what our client base wants.
When you first got into business, what was the one thing you wish someone told you?
Be kind to yourself! As much as we don't like to receive bad reviews or feedback, there are also people out in the world that no matter what you do, they aren't going to be satisfied. Don't take these to heart and let yourself think you have failed, but take the feedback as learnings and think about what you can change. Dry those tears and push forward.
Last year, how were you initially impacted by the COVID-19 lockdown?
The week prior to moving into level four, we lost 90% of our trade. Financially we were hit hard as we had only been trading for five months prior to lockdown, so the savings to fall back on were pretty thin.
During lockdown, we were still paying for costs we incurred during our start-up phase, plus the ongoing overheads that we still had to cover even though we were closed. It was gut wrenching as Miss Gee's was just starting to make some strides upwards in early March, which we were so excited to see.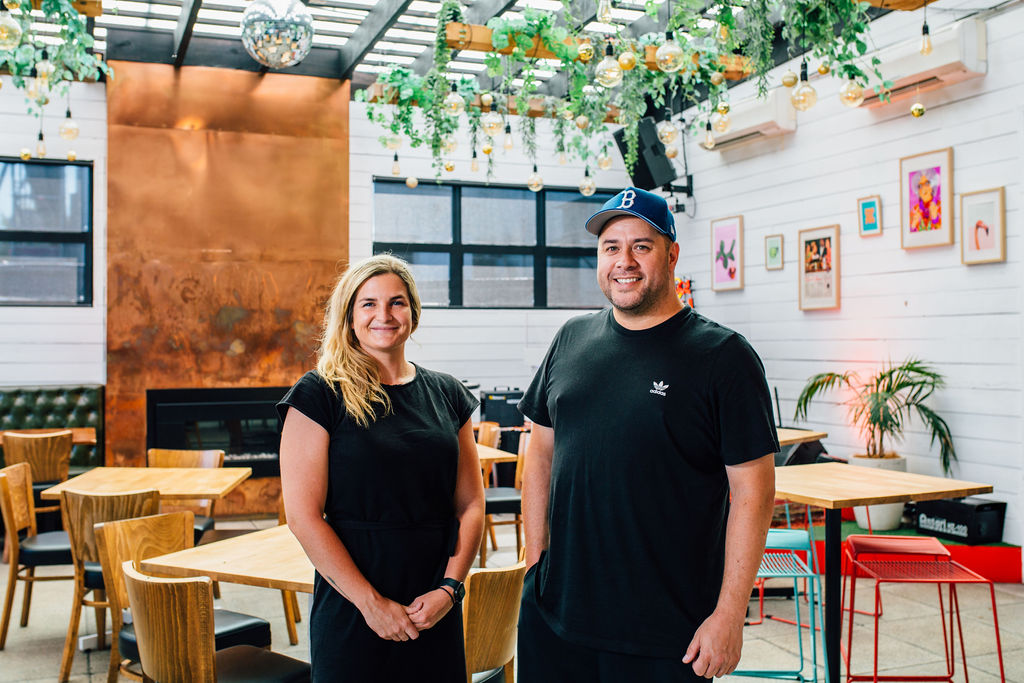 Now, nearly a year later, what are some of the ongoing challenges you face as a hospitality business and how are you overcoming them?
Cash flow is now one of our main focuses – almost on an addiction level. I watch my numbers and reconcile my accounts daily so that I always know where we are at.
Post COVID, the lunch trade of the CBD has been affected due to some of the large corporates now working from their homes. We need to create offerings that attract people to venture back into the CBD to visit us as we can't rely on this trade anymore. Keeping our overheads down while continuing to expand on a great experience for all of our guests. It's a tough juggling act.
What are some of your business goals for 2021?
Growing the number of guests that come in to see us to dine.
Reducing our overheads to ensure we are in a good position to weather any further COVID lockdowns.
Increasing the number of events and private functions we hold to attract new customers.
If you could impart one piece of advice to fellow business owners, what would it be?
Don't be afraid to ask for help – get yourself a mentor! During the lockdown, I tapped into the government funding for industry based training and was matched up with a hospitality mentor that has changed not only my business, but my life.
Anything else you'd like to add about your business or yourself?
I have learnt a lot about myself and my capabilities since opening Miss Gee's. I am so appreciative of all those who have helped me along my journey.
Thanks to the huge number of people who have shown their support since coming out of lockdown and stopped into Miss Gee's. The best thing about owning a business is hearing people rave about something that you have worked your butt off to create. Gratitude Level: 1000%.