It's been quite a year, and what better way to cap it off than to go into the New Year with a sense of wellbeing.
As part of our final BA5 for 2022, we invited Michael Barnett, Board Director for the Auckland Chamber and New Zealand Chambers of Commerce, to talk about First Steps – a fantastic new resource for business owners, managers, and staff.
First Steps is an online hub designed to support the wellbeing of business owners, managers, and employees. It is a space to find resources, video content, news and articles; as well as connect you with confidential support from approved professional wellbeing providers, to help you make sense of challenging situations, reduce overwhelm, and make meaningful change toward a fulfilling and balanced life.
As part of the BA5 Michael spoke about some of the common issues coming up for people who have used the resource since it launched in October, including stress, anxiety, and depression. He also provided some handy tips on how to get better sleep, which included:
Getting into a routine. Going to bed and getting up at the same time.
Don't take your phone or laptop to bed with you – turn it off, leave it off.
No smoking, coffee, or booze before bed.
Have a warm shower or bath.
Meditate or breathe.
Calm down and quieten the mind. Switch off and tell yourself, "I am tired, it's time to sleep."
A big thank you to our Alliance Partners who generously donated some fantastic prizes to help us fill our Santa sack and to giveaway as part of our business card draw. This included a Samsung Galaxy Watch from 2degrees, a $200 travel voucher from Air New Zealand, and an iced coffee machine and laptop computer bag from Noel Leeming. Plus, thanks to Tui Garden Products for the gift pack.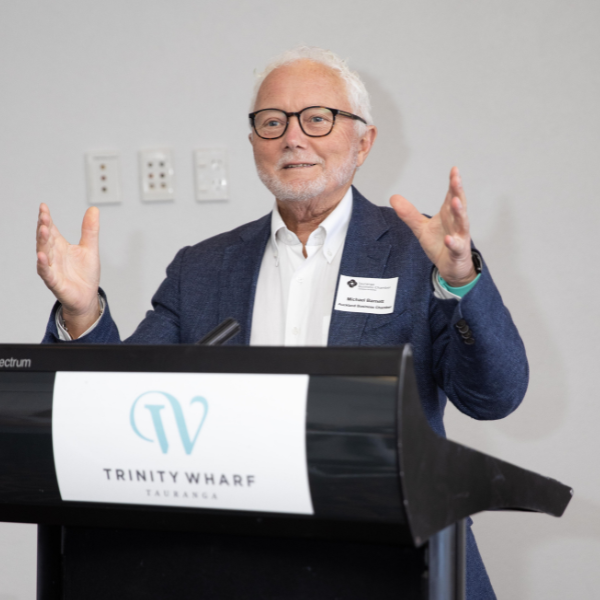 Thanks to everyone who joined us for the final Chamber event for 2022. From all of us at the Chamber, we would like to wish you a very Merry Christmas and a safe and happy New Year. Thanks for your continued support this year.
Thanks again to our Principal Sponsors NZME and Farmer Autovillage, to Trinity Wharf for the food and venue, and to Salina Galvan Photography for the pics.
Check out the pics below.
---
Looking for more business tips and advice? Head to our Latest News section.